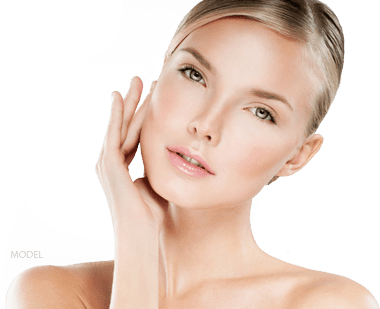 Nose Job (Rhinoplasty) in Tucson, AZ
When the nose is misshapen, disproportionate to the rest of the face, or simply not the size you would like, it can greatly affect your quality of life.
Correcting aesthetic problems with the nose is a fine and delicate process, and Dr. Nelson has extensive experience perfecting the "nose job" procedure (also called rhinoplasty). Whether you desire an aesthetic change or correction of an injury or defect, Dr. Nelson can create a customized surgical plan that will allow you to breathe easier with more confidence in the way you look.
Rhinoplasty May Be Right for You if…
You have a large or disproportionately sized nose

You suffer from a nasal hump or wide bridge

You have a drooping nasal tip

Your nostrils are disproportionately sized or flared

You have breathing abnormalities caused by a deviated septum

You experienced poor results from a previous rhinoplasty
What Are My Rhinoplasty Procedure Options?
Primary Rhinoplasty
A primary rhinoplasty is a surgery to correct the aesthetics of a nose that hasn't undergone any previous surgical correction.

The shape, size, and projection of the nose can be improved to restore a more balanced facial appearance.

Cartilage is added, repositioned, or removed to carefully sculpt a new nasal appearance.

Septoplasty can be combined with rhinoplasty to correct functional abnormalities, such as a deviated septum.
Secondary Rhinoplasty (Revision)
A secondary rhinoplasty is performed on a previously corrected nose, where the primary surgery yielded unsatisfactory or unnatural results.

Most patients seek out revision rhinoplasty when their new nose fails to improve their appearance and, in some cases, makes their nasal structures worse.

A revision rhinoplasty can be a more difficult procedure to perform because incisions must be made through scar tissue, and occasionally there is not enough cartilage to work with.

Some patients may require cartilage transfer from the ear or rib.
What Techniques Are Used During Rhinoplasty?
Open

A small incision is placed at the base of the columella.

The outer layer of skin is separated from the underlying nasal structures.

Less commonly performed because it can leave a small scar at the base of the nose.

However, some patients benefit better from an open technique depending on the type of correction required.
Closed

All incisions are placed inside the nasal cavity.

Commonly preferred because it doesn't leave any visible scarring.

However, not every patient is a good candidate for the closed technique.

The decision to use a closed technique will be determined based on your aesthetic needs and goals.
Choosing Your Doctor
When choosing a doctor for your rhinoplasty, it is important to choose a surgeon that has your best interests at heart. Dr. Nelson believes in providing each of his patients with custom-tailored results that best highlight their facial features. He combines in-depth discussions about your wants and desires to best realize your ideal nose. Dr. Nelson has an extensive photo gallery showing the beautiful results of his real-life patients to help you better envision the results he can provide for you. It is important to view before and after photos to gain a better understanding of your surgeon's skill and to evaluate what type of nasal appearance you desire.
Frequently Asked Questions
Before and After Photos - Individual results may vary. Some images may be models.
© 2023 Jeffrey M. Nelson, MD. | Site Designed & Hosted by Plastic Surgery Studios.